Client experiences
Rather Inventive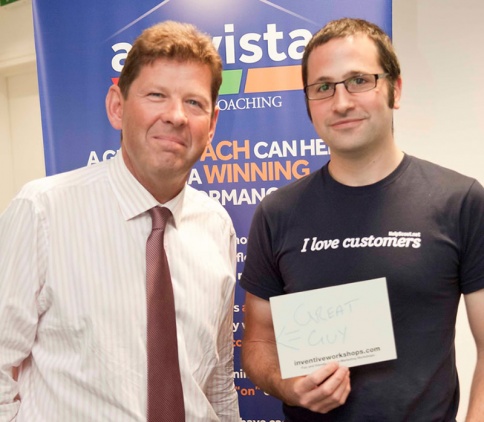 Rather Inventive is an internet marketing company that helps businesses generate more leads and increase profits.
It was started by Ben Kinnaird in 2009. Whilst taking the first steps in growing the business, Ben met the Arrivista team at a networking event, and shortly after, Ben arranged to have a complimentary business coaching session at Arrivista to understand how they could help. As Ben remarked:
My coach was very frank and open, which I liked. I was given a lot of useful advice that helped me refine my business plan.
---
In the beginning…
Ben began having one to one sessions with his coach, both face to face and over the telephone. As the business was at an early stage, the initial advice from Arrivista was aimed at helping Ben develop his business plan and strategy. One key outcome of this was the development of web marketing workshops.
These were initially aimed at gaining leads but now have become a revenue stream in their own right.
As Ben said "My coach helped me define the workshop structure and even came along and co-presented the first ones. I was helped to realise that at first, the seminars should be free as part of our marketing efforts."
The initial focus
The initial focus on developing leads was crucial for building the business and is the starting point of the Arrivista '5 ways' model. This breaks the business down into five key areas from leads and conversions through to margins and directly drives profitability; therefore, after leads, Ben and his coach started working on conversions.
As Ben stated "with the help from Arrivista, I now realise the importance of frequent contact with prospects. My coach pushed me to get back in touch with our prospects via phone call, which was something I wasn't entirely comfortable doing, but I was helped to script the calls, giving me more focus and confidence. My coach was right to push me as it has clearly resulted in more business."
The 'Five Ways' model
Using the '5 ways' model enabled Ben to plan for the future. He now has a clear target of doubling his turnover this year and by using the model, he knows exactly which areas he needs to develop in order to achieve this. 
"My coach encourages me to use the model to work out the exact actions I need to take to reach my goals. I'm not told what to do, I'm helped to work it out myself"
Empowerment is a wonderful thing
This approach is key to Ben's coach, as Ben is now empowered to find the answers himself. Ben remarked "I get asked lots of very searching questions by my coach, that nudge me towards the answer, which gets me to really think about my business and what actions I need to take. Most importantly, I am then held accountable for what I agree to do."
Time management
Some specific areas that Ben was helped with included time management and delegation.
Ben's coach asked everyone in the business to do a time analysis, which involved tracking all activities they do throughout the week. This helped everyone to be more efficient with their time and enabled Ben to delegate certain tasks, resulting in Ben finding more time to work on driving the business forward.
"I started to realise that I could spend time working on the business and not just in it. This was an important mind-set change for me and occurred gradually over the months of working with Arrivista."
DISC profiling
Ben and his team also performed DISC profiling which identifies key personality traits. This has helped everyone understand the best way to work with each other and has strengthened the team, which is especially important as everyone works remotely utilising technology such as Skype.
Accountability
Many business owners find it is difficult to maintain focus when they don't have someone holding them accountable. Ben has found this a major benefit of working with Arrivista.
"I don't have a business partner to work with. Having a coach is better than a partner as they are objective and always positive. I am always kept focused on making more profit and pushed to take responsibility for everything within the business."
In conclusion
Ben has found that working with Arrivista has enabled him to develop a profitable business in ways that he wouldn't have considered on his own.
As he enthusiastically stated "The workshops have proven to be a great starting point. The business is looking strong and I'm confident about the future. I would recommend coaching to anyone who has the drive to succeed... But you have to be open to the process and willing to answer some hard questions."

For more Information on how business coaching & training can help you & your business, call 01905 352685